Dear Patients,
We didn't want to let a wonderful and thoughtful donation go without saying a big thank you.
We are sure that you are all aware that PPE supply is difficult, but we are keeping ahead of the game by procuring from many different suppliers at different times of the weeks and days. We did however stumble in getting supplies of face visors/shields for our clinical team specifically.
We could not get them from any supplier and the NHS supply chain could not get them to us as there were greater need elsewhere. In stepped John Taylor High School's Miss Dowler and her students, who offered to make and supply some to us.
In fact they are so good, when a small supply eventually arrived, our clinical team preferred the ones made by John Taylor High School!
We promised them a picture of one of our Nurse Practitioners wearing the visor, this is Heather Andrews, all ready for her next patient.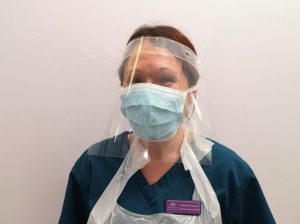 A big thank you again to Miss Dowler and her team at the John Taylor High School from all of the team at Mickleover Medical Centre.