Dear Patients,
From the onset of this pandemic we, at Mickleover Medical Centre, have completely changed how we operate for our Patients. We have done everything within our power to keep you informed along the way via this website and to those without access, we have used text messaging and phone calls to communicate with the most vulnerable.
Prior to the pandemic our capacity meant patients requesting a routine face to face appointment with a clinician [Doctor or Nurse] were looking at an appointment 3-4 weeks ahead:
a percentage of appointments were set aside each day on a first come – first served basis and for urgent on the day need
we operated a triage service to advise over the phone and this helped with directing patients to the appropriate clinician and with the prioritisation of patients who needed some help that day
As soon as the Covid Pandemic/lockdown hit, we were asked by NHS England [NHSE] to completely change the way we worked and do total triage. That meant no advanced booking and only use the most urgent face to face appointments for those needing assessment and physical examinations.
To facilitate this, we needed to install several new phone lines in the space of a week, to both receive and make more outgoing calls to patients. Even now, we are making constant adjustments to our phone system to try and make your contact with us as painfree as possible. Our Clinical team has had to adapt to initially consulting by telephone to make 'remote consultations' and when the software was in place – to be able to use video consultations and for assessing conditions by photos sent in.
Throughout all this, we have continued to see patients at the surgery where it has been necessary for their care. Our Social Prescribers and Care Co-ordinators have been in touch with our most vulnerable to offer help where it is needed and advise them how to access help. We have done extensive work on the lists of Patients who should shield, checking NHSE lists and aligning them with hospital records. All those who required to shield were called personally by one of our team.
To open the door or not to open the door – that is the biggest question posed by Patients to us
The Practice has been open the entire time. Our entrance, which is also our exit, and the space within the corridor for waiting in a queue for reception, or in the waiting room is not deemed 'Covid safe' according to the strict guidelines we have to follow. This is the reason our door is not permanently, physically open, to allow access to everyone at any time we are open. It is also because we have a duty of care to the vulnerable patients and we also need to protect our workforce. We can only allow the most vulnerable patients in the Practice to wait in the waiting area, socially distanced. Only this way can we continue to offer a safe service.
It is important that if you have access to the website or the phone that you use those methods of communication. We would ask that when you have a face to face appointment, if you are driving, to stay in your car until the time of your appointment. Don't forget to bring your face mask! Clearly when the weather changes, you might be waiting outside in the inclement weather as there is no room inside to wait, except through prior arrangement or for extremely vulnerable patients – please plan for this.
NHS England states… "COVID-19 has fundamentally changed how patients access their GP. The pandemic has super charged the use of remote consultations (telephone or video) in primary care. These will never replace face-to-face appointments which are available to all patients where appropriate, or if a physical examination is necessary. However, remote consultations can be a convenient way for people to access medical advice and treatment".
The number of patients now contacting us daily has increased substantially and is now in excess of the numbers we had in Pre-Covid/ lockdown days. We have been able to deal with everyone's needs, be it a phone call, video call, home visit or face to face appointment, within one week of the request. Currently, at Mickleover Medical Centre, we have attained 75% of contacts dealt with, either by phone, visit or face to face within a day of the enquiry and 95% of enquiries/telephone/virtual requests dealt with within three working days.
Our Practice Nurses have been working at full capacity for dressings, immunisations, cervical screening and long term condition reviews. Unfortunately, all face to face consultations of any kind adds a minimum of ten minutes to the time they used to take. This is due to the careful cleaning down of the room before the next patient comes in and changing of the necessary personal protective equipment, this does reduce the number of people we can see face to face in a day.
NHS England says that video consultations are now available to 99% of the population in England. Meanwhile, online consultations, where a patient can contact their GP practice directly via the internet, are now available in 90% of GP practices, almost 6,000 practices, covering 90% of the population – we of course are one of these such Practices. While we don't want to reverse the benefits of video consultations, we need to reassure you, our patients that face-face appointments are there for all who need them.
Please remember that you, as our patient, have access to a GP, or Nurse for non-urgent issues, and that you don't need to go to A&E unless it's an emergency. You need to call us, use the website or get someone to do that for you.  To recap:
Ways to seek healthcare advice from the Practice:
⇒  Call your surgery to discuss a face-to-face or virtual (telephone or video) appointment
⇒  Visit your GP Practice website and complete a confidential online form to receive a response within two working days; you can access the 'Get Help for Any Health Problem' from our website here, which will let you check your symptoms on the NHS website before filling in the form or you can download the NHS App, go online to systmoneonline, or again, on this website here to order repeat prescriptions, ask questions and check your symptoms
⇒  Call NHS 111 or go online to seek advice https://111.nhs.uk/
If you are waiting for a Chronic Disease check-up, such as COPD, Diabetes, please be assured we will be in touch to arrange a review.
Appointments are being delivered face-to-face, online and over the telephone. If you are asked to come into the surgery for a face-to-face appointment, please remember to wear a face covering and arrive on time for your appointment. Measures are in place to keep you safe from infection during your visit to the surgery.
We hope that we have answered some of the questions we have been having as feedback and we have definitively not been hiding behind closed doors.
If you have any feedback to share with us, please contact the Practice using the website.
Please remember that we are human too and are trying our absolute best to help everyone to the best of our ability and capacity. Some of our clinical and non-clinical staff, as patients themselves in other practices, are facing the same issues as you do. They are aware of the difficulties in accessing their own surgeries and are consequently working hard to smooth out the problems for you.
We work as a team, with an ALL IDEAS MATTER policy, so we regularly review complaints, seek new opportunities and ideas to solve issues and listen to our patients. We also have a number of clinical and non-clinical staff self-isolating or working from home due to a family member isolating. In addition, we have daily staffing changes as staff quarantine whilst awaiting Covid test results – so if you hear noises in the background that you are not used to hearing, such as a dog bark, or a child's squeal, this is why.
Please bear with us. We are here for you and please do share with us when we are doing things right, these little boosts of morale are great for the team.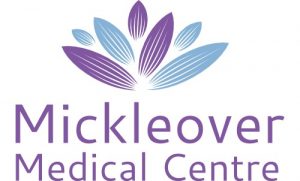 Your Team at Mickleover Medical Centre